Figure 14 & 15. More smooth color toning
Memories. Emotions. New Life.
The grief of losing family at a younger age is an issue that has been overlooked. This project contributes to helping younger adults who have lost their parents to perceive, identify, manage and finally embrace their grief and lead a mentally healthier life.
​
Our product is an interactive digital fictional book co-designed with therapists that guide election in grieving younger adults who have lost their families.
The Minimum Viable Product was appreciated by several therapists. An extension of this MVP for sexual abuse trauma healing for women is in the process and is to receive funding of $3,000.
Project Summary
Team Project, Mar.-May. 2022, 12 weeks
My Specific Role
User Research, Competitively Analysis, UX Design, Content Design, Prototyping
​
Team Formation (major roles)
Chen Huang, Designer Daniel Jacobs, Researcher
Gabriela Torres, Researcher Matt Mai, Engineer
Prem Sagar, Engineer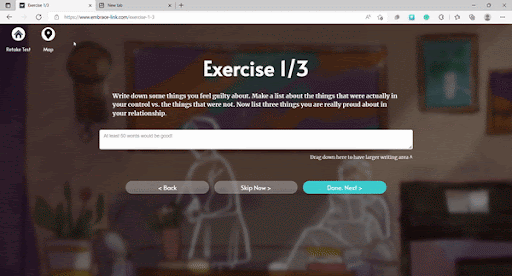 Feature 1 - Card sorting in onboarding process
Feature 2 - Dynamic exercises
Feature 3 - Dynamic & customized storylines
21 user interviews

stakeholders interview

desktop research
interactive storytelling

customized chapters
card sorting method

online & offline prototyping
Grief is all around us, a topic that every one of the 7.7 billion human beings on this planet has to be faced. In most situations, people who have lost their family, friends, or pets are thought to go through a certain linear process and end up cheering themselves up, but the truth is way more complicated than is imagined:
People die in the United States annually, each leaving an average of 5 grieving people behind.
People reported the most intense grieving in the first 12 months after beloved's death
The process of grief is nowhere near linear. Instead, it is so complicated and recurring that grievers themselves do not clearly identify them.
In general, during the process of dealing with grief, the key points lie in
1) to help people IDENTIFY their perceptions or emotions, which are highly variant in the forms of their presence;
2) to help grievers positively MANAGE their emotions;
3) to build up a long-term LOYALTY of self-mental care.
​
Figure.1 Meeting with Therapists
Figure.2 Affinity - Importance of Metaphor & Symbolism
Figure.3 Affinity- Empathizing with a character can help relieve repressed emotions
A general mind map was the product of several rounds of user interviews and desktop research, showing that the process after the very point of losing parents is an appropriate period for a prompt intervention to make people envisage grief and overcome long-term mental health problems.
Luisa | She/Her | 32 years old
​
Technically savvy
Busy with jobs & work
Finds professional therapeutic process intimidating & expensive

Cannot find an appropriate person to talk to about her feelings in a long run

Still actively searching for solutions
As is highlighted in the journey map, longer-term grief could be positively intervened in the short-term phase, during which grievers are usually fed up with funeral rituals, repetitive but hardly helpful comforts from others, and other mental or physical disorders. More than anything, if not treated properly, grief would be greatly variant in the form of its presence (e.g., jealousy of people who have a happy family, the tendency of perfectionism and fear for criticism, etc.) in people's long-term life time.
The classic T-E-A-R Model validates the user journey map. Among the four stages of the grief process:
Stage 1 - To accept the reality of the loss;
Stage 2 - Experience the pain of the loss;
Stage 3 - Adjust to a new life without the person; and
Stage 4 - Reinvest in the new reality,
We mapped out Stages 1 & 2 as the main focal point in tune with the journey map insight (i.e., an early stage intervention to prevent long-term suffering).
Rituals where we have the opportunity to share and remember those we lost in a group make us feel better.
Having an opportunity to embody the values and legacy of those helps us cope.
Facing our sadness early on, either through therapy or deliberate introspection, has a big impact in how well we cope with it going forward.
How might we design rituals that guide people through bereavement in a way that prevents long-term distress?
Given the key insights of delivering rituals, value embodiment, and introspection, The idea of combining bibliography, journaling, and gamification to help long-term mental care and reflection stood out among several options. Mapped on the phases of grief healing, this idea proves to be more feasible and desirable.
After reading through bunches of reviews of the major digital products/services for grief healing, I drew four major conclusions on their pros and cons:
Freemium is OK, but do not make the service totally free. Content production is time-consuming and entails professional inputs, and interestingly, users regard free content as valueless.

At the end of the service, users should not be assumed to have specific outcomes or results. In other words, give users enough cushion of time not to be OK. Grief for everyone is unique, so there's no need to have a tough schedule.

Socialization function is strongly discouraged in a grief healing app. Grief is unique and private, and users feel unsecured to hear others' stories without validating their credentials.

Customized content and a platform for feedback are necessary to make users feel they are seen, warmly felt, and uniquely taken care of.
​
​
In summary, our product is a freemium customized interactive fictional book co-designed with therapists that guide reflection in grieving young adults with bereavement.
Figure.5 Mapping out major elements of content
Technically, the user would go through four phases in our MVP: 1) On-boarding process to collect data on their emotional status; 2) choose a character to start the journey; 3) experience interactive and dynamic stories catered to their phase I results; 4) reflect, feedback and stand loyal to a long-term process.
Zoom-in to the Phase 1 Algorithm: Users are required to choose several cards categorized by keywords in relation to emotions, and the app will link them to specific category of emotions, which will differentiate the chapters and exercises for each user.
Zoom-in to the Phase 3 storyline: After choosing the character, users will be led to different branches of the storyline. For example,
User 1 chose character 1, and accordingly, he/she got into Story 1. Given the results of his/her onboarding process, he/she is shown by the Conversation 1 of the storyline.

Similarly, if user 2 chooses character 2, he/she will go through Story 2 by any branches falling under Story 2 based on his/her Phase 1 (i.e., onboarding process).
As such, each user's journey is uniquely designed upon their Phase 1 (i.e., onboarding process) results and their character selection.
Content design is one of the most challenging parts of this project. Theoretically, a traditional framework of Hero's Journey or Three Action Structure (i.e., Set-up, Confrontation and Resolution) could be the basis of engaging storytelling. Based on these theories, we wrote two different stories for prototyping, one of which is more dramatic while the other is less.
Figure.6 & 7 & 8 Character Customization & Selection to start the journey (Demographic feature, vibe, fashion style, etc.)
Story 1 - The Mist | A mild story
Two Conversations of Story 1 based on the Three Action Structure. Users go through either of them based on their Phase 1 results
Story 2 - The Sleepwalking Artist |
A dramatic story
Two Conversations of Story 2 based on the Three Action Structure. Users go through either of them based on their Phase 1 results
Final Key Visuals serving plot points
Figure Series. 9 Wireframes of one story, including onboarding process, storytelling, exercise, and ending.
Key feature 1 - Emotion Mapping during Phase 1 (i.e., On-boarding process). There are two ways of doing so - either letting users map out directly by themselves or leveraging cards with implicit information for users to select first and then doing algorithm at the backstage.
Figure Series. 10 Users select the emotions and mark the proportion directly.
Figure 11. Users select cards with quotes and let the app do the algorithm to mark their emotions.
Key feature 2 - Easy exercises (writing, drawing, color toning, etc.) to help track users' emotional progress.
Figure Series. 12 Examples of color toning and writing exercises.
Prototyping & User Testing
Overview of three rounds of prototyping & user testing:
√ Stronger empathy & exercise experience
√ Users love more dramatic stories than mild ones
× Inconvenient in making interactive & customized stories
× Onboarding process is confusing
× Space for writing exercises should be flexible
× Unavailable to track progress
Round 2 | Low-Fi
Online Version
√ Visuals are more interactive & immersive
× Some questions in the exercises should be re-modified
× The onboarding process of allocating emotion proportion is counter-intuitive
○ More multi-media interactions like an audio version of storytelling are welcome
Round 3 | High-Fi
Online Version
√ Character customization is very helpful in evoking empathy
× The flexibility of space for writing exercises should be highlighted
○ More detailed explanations on the card sorting
First Round - Hard Copy Book
PROS
It brings a stronger sense of inner peace for users by providing a fixed amount of time to unplug, handwrite and contemplate.
CONS
Inflexible space for writing (most users tend to write a lot more than is required) is said to be annoying for users.

Some users just did not follow the instructions and messed up the whole process with confusion and complaint.

The logistics of giving out new story books and getting feedback is complicated.

Users had less loyalty in this scenario to give us feedback because the feedback is another QR code scanning process.
​
​
Figure 13 User testing & commenting on the hard-copy prototype
Second & Third Round - Online Low-Fi & Hi-Fi App (Webpage & iPad App)
Figure 14 & 15. More smooth color toning
In the 2nd round (low-fi) of user testing, users were given a series of images showing gradation tone, from which they were asked to pick up an image that mostly matched their feelings. This proved counter-intuitive and hard for users even to understand this question.
​
Instead, the 3rd round (hi-fi) prototype made such an exercise into a consecutive motion graphic showing a smooth gradation of image vibes so that users felt easier to mark the difference.
Figure 16 & 17. Implicit and easier card selection process for users instead of urging them to do calculation
It was challenging to ask users directly to map out their feelings or emotions, let alone calculating the proportions of emotions by percentage.
​
In the Hi-Fi prototype, this part was simplified into choosing cards with quotes that match users' feelings the most.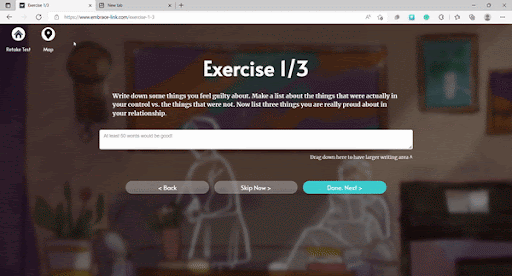 The writing exercise turned out helpful and appreciated by users, and they require more space to express their feelings.
​
Thus, we made a flexible textbox and highlighted the extension button.
Figure 18 & 19. More flexible space to write and reflect
Learning after User-Testing
Metrics
Length of reflections (# of words)

% of exercises completed
Demographics
Average age: 36

Have gone through grief in the last 1.5 years

1 - 2 days for reading

Surveys after completion
Users' main learnings

Satisfaction survey
Interview
Identification of emotions

Experience
​
"Illustrations are positively richer!"
Strong empathy with the character facilitates introspection

Modularization of story facilitates reading

Character customization at the beginning would be very helpful
"20 cards laying out seems like a tarot reading!"
Helps to label what the user is feeling

Offer more positive emotions to avoid nudging the user to negative ones

Improve the layout to facilitate selection
"I like the questions to be well embedded in the story."
Perfect connections of the character with the exercises facilitate reflection for users

Some exercises did not give a cushion to be mentally prepared
(Re)Traumatization in research be tackled subtlely
Privacy protection and talking about trauma were the first two hurdles during the interview. A bunch of preparation on leading trauma talking without making them re-traumatized and building trust in a timely manner is crucial. Almost all of us got ourselves depressed and influenced after a bunch of user interviews, which was expected.
For uncertain content, just DO and iterate!
The content design boasts personalities. It is very likely for a team to get lost in endless discussions on content framework without going deep into every detail (e.g., tones of writing, terminology, etc.). User testing tells everything in the most timely manner.
Even though a product is for non-profit use, take into account every single aspect of costs and give it a fair price. Users tend to be generous and trust a lot more in buying high-quality intangible services, and free services might be counter-intuitively untrustful.
Thanks for reaching here!