Technologies specifically geared for enhancing children's safety are advancing but our kids are not becoming safer as was expected, because in daily life some functions are superfluous while in emergencies they are of little use.
SAFE SCAR, a wearable band-aid-like device with optimized functions both for daily life and emergencies, together with an app in tune with the device provides a solution to the problem.
I finished the whole design process before developing and landing by myself, including research, ideation, sketch & design, prototyping, and testing.
In July 2019, A Hangzhou girl abducted by strangers was finally drowned in the sea, as the victim of the strangers' superstition belief. The tragedy happened again in October, that a 10-year-old girl was abducted and sexually assaulted by a 14-year-old boy and thrown just 100 meters away from her home in her community.
​
Recalling back my memories of being narrowly abducted on a bus when I was 5, I tried to figure out: why is children's safety issue still unsolved, despite our advanced technologies and ever-increasing public awareness?
Hence I conducted both online research and face-to-face interviews with 12 adults and 6 children and found there was a gap between the technologies and users, that those promising smart devices are not well customized for their true needs.
​
​
​
How might we truly help kids
in emergencies and educate them
on safety issues?
After interviews and after several rounds of affinitization analysis, users' needs have been clearly integrated into six sections.
Roses & Thorns & Buds Methods for 1st round analysis
Cards affinitization for both children's and
parents' feedback
Points in triple or quadruple overlayed areas indicate more significance.
​Since my interviewees have large differences in their age, experience and mindset toward children's education and gender also plays a crucial role, I finally made 4 parent persona and 3 child persona.
​This map is to mark the one-day life of the persona, in which a wider difference in user emotions means parent users' more concerns about their children. In other words, parents are more apprehensive as is shown, when kids are out without them.
1. Emergency cases where kids are abducted in public
2. Abduction or assaults led by kids' innocence to strangers
3. hidden danger during rush hours
4. Hurts or injuries during outdoor activities without supervisors
5. Acute disorder at school
6. Bad eating & drinking habits that frustrate parents a lot
After 2 rounds of brainstorming, I got down to 3 options and by virtue of product opportunity gap analysis, the idea of developing a smart wearable device with refined skin features plus an app ranked the top.
6 user flow maps have been made out in accordance with the 6 scenarios.
Sketch-Social Media & Gaming
I offered 5 types of VI for 12 users to select:
【1】high-end & immersive; 【2】clean & tidy; 【3】high-tech & modern; 【4】joyful & colorful; 【5】soft & plain.
After a 2-round selection, more than 6 users voted for 4 & 5. Therefore a combination of them ( the last and 6th picture ) has been decided as the final choice.
​
SAFE SCAR Wearable device ("SCAR Device") is a band-aid-like device.
​
STRUCTURES:
It has a verisimilar scar texture on its facial layer, with GPS, pressure, humidity, vibration, and gyro sensors and solar panels in the middle and skin-friendly tapes at the bottom layer.
​It can be worn at any place on kids' body but the place around the ankle is preferable because it will not be so distracting to kids as it is worn on arms.
​
MAIN FEATURES:
It is camouflaged as part of the body so that in emergencies it will not be easily recognized and thrown away;

It is so light and thin that kids will not feel uncomfortable when wearing it;

No need to charge with power because it uses light energy to power up.
LM35 sensor with less weight;
Some features of the device are too conceptual to come out from the laboratories, so making a 1:1 prototype would be challenging. Instead, I made a 4:1 prototype with some available Arduino modules:
​
【1】Solar LiPo power manager module;
【2】Adafruit Flora as CPU;
【3】Thin-film pressure sensor;
【4】3 in 1 ( gravity & acceleration & GPS ) sensor;
【5】2 in 1 ( temperature & humidity ) sensor;
【6】Vibration module; and
【7】RGB LED to give low-power warning.
​
​Besides, some alternative modules are included to test certain alternative functions.
Buzzers to test whether a sound warning would be OK
More sensitive but smaller round thin-film sensors;
- Circuits Tests in Arduino
​DEMO 1
Arduino UNO with Solar LiPo charging system
​DEMO2
Arduino UNO without Solar LiPo charging system
Pressure Sensing Test
​
Process
The number 700 is set as a threshold that is so high not as to reached by children in their daily activities easily;

The buzzer rings when the pressure is up to 700.
​
Improvements
The buzzer is a bit noisy under certain circumstances (e.g., in the class), but it's not loud enough to attract others' attention when kids are in danger;

In case of some fierce mistouches, it's better to allow the system to have several seconds before sending the warnings.
Temperature Sensing Test
​
Process
The number 25 (in real case the number should be 37) is set as a body temperature threshold;

The scar-like image shows orange when the temperature is below 25 and turns into red when is up to 26;

Sensing the body's humidity is a similar process.
​
Improvements
The warning signal (i.e., the color change of the scar-like image) is indirect and weak.
Gyro Sensing Test
​
Proces
The 3( acceleration, gravity, and steps) in 1 sensor records data accordingly.
​
Improvements
​The frequency of data transmission should not be too high.
- Main Features of SAFE SCAR App
MAP - Daily Route Tracking

2 ways to set daily tracking routes:
​
Manually. Users can follow detailed instructions to set routes and favorites.

Let the SCAR Device track automatically. Just keep SCAR on and routes will be recorded.

Users can also change default routes on the tracking history page.
MAP - Before & In Emergencies
​
SCAR App will smartly send notifications based on a preset threshold ( e.g, out of safe boundaries for 15min), and parents can send signals for kids' responses.
If kids fail to respond 3 times, this case will be judged as an emergency and parents can call for social help in SCAR App.
SCAR App suggests basic info and missing location so that parents don't need to text a lot in urgent cases.
​
In situations where kids send SOS directly, parents will receive the highest level of warning in the App.
NEARBY - Social Help

Nearby combinates 2 main features:
​
Display of urgent cases, i.e.social help cases nearby, where users can see and offer cues to parents in these cases;

Contents featuring social media. Parents can share can learn various kinds of info about parenting or safety education.
​
DATA - Health Data Dashboard
​
SCAR App will smartly send notifications based on a preset threshold( e.g, physical humidity out of a minimum of standard)and SCAR App can send signals for kids' responses based on their time schedule (e.g during the latest class break).
​
Every incident will be marked as a dot on the health dashboard for review, which will helps parents know in what situations kids will get sick easily.
​
All data could be reviewed by time or by region.
ME - Adding SCAR Device

Me is the segment in which users can preset data and manage their devices.
​
In Me, there are 2 ways to add SCAR Device:
Insert 6-digit serial code and get connected;

Scan the QR code at the backside of SCAR Device.
For post-purchase if any, there are links to official online markets so that users will not take trouble selecting accessaries.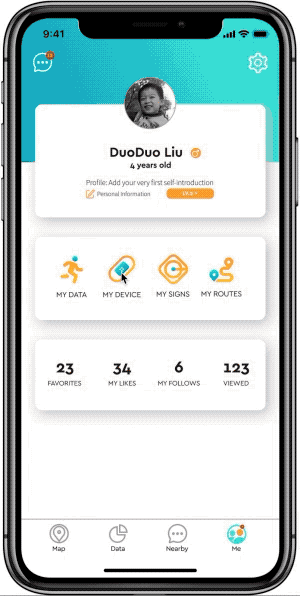 DATA - Basic Sports Learning
​
SCAR App is a smart app that learns basic sports data of kids so that it can help make accurate judgments during kids' activities.
​
Just a 1-minute video and SCAR App will help analyze and correct data.
​
Basic data include:
walking speed
running speed
​amplitude
Child Mode - Gaming
​
3 types of games in child mode:
Quiz. Quiz offers content with safety themes and kids can do the quizzes and get rewards.

Tasks. There are community tasks relevant to quiz contents. Kids can do these tasks as practice of the theoretical knowledge in the quizzes, and get reward coins.

Ranch game for habit learning. Kids can hatch animals if they reach specific goals, and get rewards.
​
All rewards (coins, trophies) can exchange tickets, coupons for exhibitions and shows, etc.
​
Try this clickable wireframe. Loading may take a few seconds.
The Arduino prototype and user tests well revealed several details that were neglected previously:
Larger surface for touching and pressure sensing area accordingly;

Attach the SCAR device to a place easier for kids to reach;

Easier gestures to interact like repetitive tapping.
Vibration is better than a sound warning because of its covertness;

The frequency of refreshing data should not be so high in case of data burden;

More direct status indication like a LCP screen showing data but not glaring.
More transparent fabrics and more endurant layers ( not available in the process of Arduino testing).
In the SCAR App, the page of recording signs has been improved as recording tapping gestures:
As a self-initiated project that integrated various aspects of design practices, SAFE SCAR is far from perfect. Nevertheless, it has brought precious lessons and experience as guidance for similar projects in the future:

User Research Targeting Children
Conversations are not enough to discover children's true intentions or attitudes during the user-research process. Instead, a combination of various practices, which are intriguing and observational, like physical games or quizzes, can help excavate more details in their behaviors besides words.
The Balance between High-End Tech and Usability
Kids have a limited sense of value. In this case, the child tried his best to disassemble the prototype because of his curiosity. Hence, it's equally important to deliberate the prevention of kids' misbehavior towards such high-end devices, other than its benefits toward children.

To Do
Further research on the latest R&D status of these physical functions, fabrics of the prototype